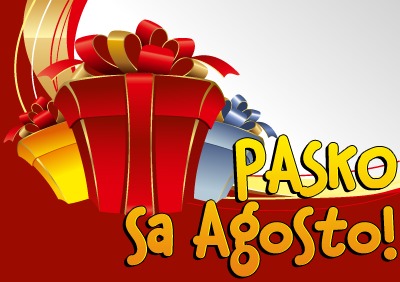 CDO Mom is proud to be hosting Pasko sa Agosto 2013 Blog Giveaway Caravan. When I started this blog hop giveaway back in 2011 from one of my blogs, my intention was just to run an exciting giveaway with super easy mechanics and lots of different prizes for our readers and visitors to join. And to my surprise, it was a hit with a lot of bloggers co-hosting it with me and a lot of participants joining. Sadly, in 2012, I was not able to host the giveaway for some personal reason but this year, 2013, I won't miss it for the world!!
Now, for this year's prize, CDO Mom will be giving away the following LOOT!! Yay!!!
Our prize for this years Pasko sa Agosto is a complete package for the lady in you or the lady in your life! One winner will win this loot containing one bottle of Livemore VCO Food Supplement (HEALTH), one bar of Seriously White Kojic Soap (BEAUTY) and a Class A Liz Claireborne Lady's Wallet (FASHION)!
Giveaway will START on August 7, 2013 and will END on August 28, 2013. Winners will be announced on August 31, 2013 and will be emailed accordingly. Giveaway is open to all residents of the Philippines or has a Philippine address where we can send the prize.
Now, the mechanics are easy as 1-2-3! Just follow all that are listed in the RAFFLECOPTER Widget. Good luck!!
By the way, don't forget to comment telling me that you have joined OK?!
After joining, don't forget to visit all the blogs who are co-hosting Pasko sa Agosto 2013 Blog Giveaway Caravan with me!
CDO Mom – that's me!
The Late Bloomer
When Silence Speaks
IchaDalawaTatlo
Mai Thankful Heart
Green Home Elements
It's All About Me, Mommy Kat
My Tummy Calls
Chic n Fab
TLE Desk
Mary Narvasa
Life on Lens
Blogiversity
Beauty and Beyond