This blog of mine celebrated its First Blogoversary last May 2012 so as a way of thanksgiving, I have decided to run a mini giveaway to all my readers and visitors who are living here in Cagayan de Oro City or anywhere from Northern Mindanao who is willing to meet me up if he/she wins. Yay!!
So starting today until August 10, 2012, I am running a mini giveaway. I will be giving a lot of fabulous prizes such as…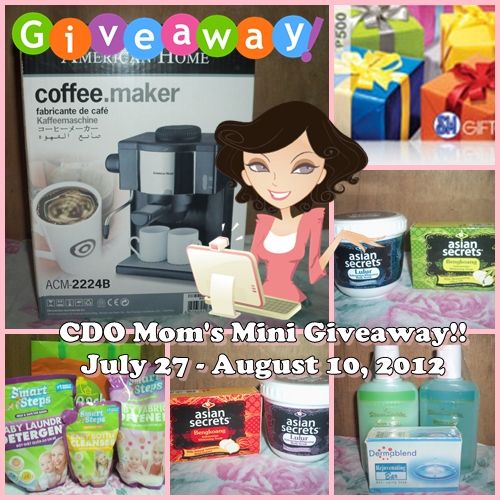 American Home Coffee Maker
Asian Secrets Body Scrub + Soap Gift Pack
Asian Secrets Body Scrub + Soap Gift Pack
Diana Stadler Shower Gel + Body Bath + Dermablend Soap
Smart Steps Gift Pack
500 SM Gift Certificate
Therefore, my mini giveaway will have six winners. Yahoo!!! So, what are you waiting for? Join today! It is easy to get raffle entries!
Would also like to thank the following bloggers who helped me. Thanks to ZoWanderer, Empowered Mom, CDO Info Guide, A Young Mama's Journey, Love's Haven, inCDO.com and Lady Soda. Thank you beautiful ladies!!